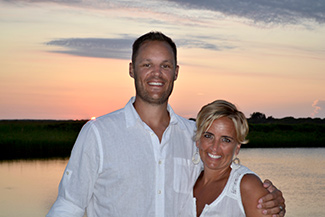 Meet the Doctors
Dr. Katie and Dr. Brenton Pinkus
At Pinkus Family Chiropractic in Manchester, you'll get the benefit of two chiropractors at your disposal with well-rounded skill sets. We're passionate about helping everyone in our community reach their health goals, and look forward to getting to know you!
Seeking a Different Way of Healing
A Passion for Pediatric Chiropractic
Influenced by her mom's alternative therapy choices to treat rheumatoid arthritis, Dr. Katie knew she wanted to become a chiropractor to give people another avenue in health care. To gain a chiropractic education, she attended Life University, where she was impacted by pediatric chiropractors such as Dr. Joel Miller. "I loved the idea of adjusting kids. My daughter was born while I was still in school and her torticollis was taken care of by a chiropractor. It was powerful to see."
This experience drove Dr. Katie to take a special interest in children. She holds a certificate in pediatric chiropractic care and studies with the Epic Pediatrics program. During her years at chiropractic college, she met her husband, Dr. Brenton.
From Professional Soccer to Chiropractic
After experiencing a soccer injury that no medical doctor could help with, Dr. Brenton finally saw results in just a week or two with chiropractic care. He decided to attend Life University to assist those in similar situations. While there, he met Dr. John Downs, a sports chiropractor who adjusted Dr. Brenton and the rest of the soccer team, from head to toe.
I'd see him with all sorts of injuries – wrist, knee, elbow, ankle and more. I became interested in full-body techniques after working with him for years.
A Busy, Family-oriented Life
Together, Dr. Katie and Dr. Brenton have three daughters: Hannah, Grace and Lucy. They're healthy and have avoided common childhood issues like ear infections, and are active athletes. Chiropractic has allowed them to be well-balanced people, and they're a great example of how well kids respond to being adjusted. They play year-round soccer, following in their dad's footsteps. Their lives outside of the office revolve around soccer.
They travel all over the country to see their daughters' games, and they volunteer with school soccer and recreational leagues.
Contact us today to learn more about what we do! If you decide to start as a member, you'll enjoy the convenience of walk-in visits, and can refer friends and family to get a special offer.

Chiropractor Manchester | (802) 362-7512