Manchester Chiropractor Reviews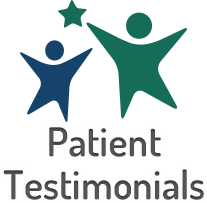 I'm very happy with my service, and thank you so much for making my headaches go away.

I was beyond impressed with my experience at Pinkus Chiropractic. Thank you to your entirely staff for the excellent care I received during my visits.

 I am so grateful for the relief- my only regret is I didn't go to them weeks ago. So Thank you both so much for all your help and relieving me of the worlds worst pain I've ever had and hope to never get again.

Massage Therapist was the best I've ever experienced in over 30 years of dealing with back problems, she definitely knows her business.

Positive experience. Staff was energetic about me and getting myself healthy. My injury was determined in the morning and was treated that night. Can not thank them enough !! 

I felt very confident with the work being done when I left and I'm excited for more visits with Katie.

It is a real pleasure to experience such awesome teamwork! (Especially when needing health care)

My wife had wonderful success with Dr. Katie and suggested I come to resolve my "issues." We are both very happy with your services.

Dr. Katie and Dr. Brenton are so great with my kids! They really took the time to listen and explain everything to me! Highly recommend!

Incredible care by fine, knowledgeable doctors. Office staff also very helpful. Overall positive experience. I feel encouraged that my health will improve. Thank you!

Today was my first adjustment ever and I couldn't put in words how much better I feel thanks to Brenton and Katie! Look forward to my next visit!

Amazing staff! And both Dr. Katie and Dr. Brenton helped so much. If anyone is skeptical, just do. Amazing!
Very Skilled Practitioner
I've been seeing chiropractors for many years and recognize Dr. Pinkus as a very skilled practitioner! I would highly recommend him to anyone seeking chiropractic help.
-Sylvain C.
---
Truly a "Family Chiropractic" Office
I am so happy my friends pointed me in your direction! From the first phone call I felt welcomed and encouraged that my pain was going to be handled by people who care. I started with an incredible massage from Mariel. She listened to my voice and to my body as she worked. Then when I met with Dr. Katie for my chiropractic assessment, she was very attentive and made me feel at home as we discussed our plan. Dr. Brenton, too, listened carefully to my words and my body as he began his work, and I knew I was going to feel better soon. With each visit there has been been steady improvement. The name "Family Chiropractic" really describes the feeling you will have with this practice.
-Jeanette P.
---
Professional & Accommodating
I brought my daughter in and not only did I become a patient, but so did the rest of my family!! Very professional, accommodating and great energy from both the Staff and Doctors. I highly recommend Pinkus Chiropractic to anyone looking for an experienced, knowledgeable and very friendly practice.
-Lisa B.
---
Doing it Right
Wow–you guys do things right! What a wonderful experience I had at your office from start to finish. It's a real treat to step inside your door with the warm welcome, positive words, reminders to care for your body with water, tea, coffee, and healthy snacks in your waiting area, your listening ear in my work-up, and the can-do attitude about fixing me up. I feel worlds better under your care in just weeks. I'm so glad I found you.
-Kimberly D.
---
Coming Back for More!
Thank you so much for being able to accommodate me and my daughter on such short notice. My daughter now says she feels aligned and ready to compete this weekend. I too feel a lot better. I look forward to coming back for more adjustments.
-Deborah S.
---
Highly Recommend
Both my mom and I go to Pinkus Family Chiropractic for adjustments on a regular basis. Katie and Brenton have helped us tremendously with our headaches and dizziness along with other physical ailments that have come up over time. We highly recommend that you visit Katie or Brenton for all of your chiropractic needs.
-Caitlyn
---
Our Chiropractic Home
We've been searching high & low for a chiropractor since moving to town & yesterday we finally found our chiropractic home! Thank you so much Dr. Katie, Dr. Brenton & the rest of the Pinkus team! I could not be more pleased.
Geri
---
Everything is Better!
I no longer feel pain the moment my feet hit the floor in the morning, no do I limp into work after climbing out of my car from the 20 minute drive or tenderly navigate the stairs or steps one at a time while grasping the handrail for extra support. My many, many thanks to you all!
Linda
---
My Refuge, My "Me Time"
This practice is my refuge, my "me time". When I first visited, I was so broken down, so tired of hurting. Dr. Katie met with me and took the time to explain everything. She was so compassionate, so understanding. She and Dr. Brenton are fantastic to work with. They have given me my life back.
Darcy

Manchester Chiropractic Reviews | (802) 362-7512